Customer support & helpdesk
More efficient employees and more satisfied customers
VisionFlow is a powerful tool for delivering great support for products or services to customers and users. Our system is easy to use and very flexible and configurable. Get started quickly with a simple configuration or choose a more advanced set.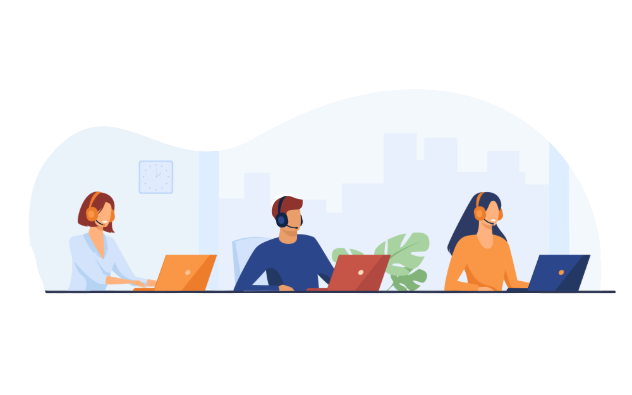 What is good customer support?
In order to meet the needs of customers in today's digitalized world, it is important to be able to offer customers support via several different channels. It is the customers who contact organizations and the requirements for efficient and solution-oriented support are only getting heavier. Therefore, it is incredibly important for organizations to be able to meet customers where they are and offer solutions in an efficient way.
Good customer support is a crucial component in maintaining and developing a strong customer relationship. It means being able to respond to customers' needs in an efficient and satisfactory way. To achieve this, you need a powerful system to help you provide a superior customer experience.
Customer support with VisionFlow
Increase customer satisfaction
Structured customer service allows you to give your customers the best possible service. With VisionFlow, you get a fast and solution-oriented case management system that keeps your customers happy and loyal.
Cases are generated directly
An incoming email will immediately create a case in VisionFlow. The cases are configured so that the information you think is important is registered on the case and that the case ends up with the right person or team.
Full traceability
You'll never miss an email, text message, or other type of communication by having full traceability from when the customer first contacted you to the feedback at the end of the case.
Support Center
Streamline support using a knowledge base. Ensure consistent quality with all information gathered in one place. The knowledge base facilitates the organization by enabling everyone to share knowledge with each other.
Full control over the case's status
Get full control over the status of the case and its management by identifying, documenting, following up and resolving questions or issues that arise during the project. With VisionFlows, you can centralize all these issues in one place.
Multi-channel support
The customer is able to create a support request in several different channels, such as email, chat, phone and social media. This gives the customer the flexibility to choose the channel that suits them best. In VisionFlow, all cases are collected regardless of where the first contact takes place.
Reporting capabilities
See the status of current cases and find potential bottlenecks. Ensure smooth and seamless case resolution with key performance indicators. Create your own reports to facilitate your support.
Knowledge base
VisionFlow is equipped with an extensive knowledge base where customers can find valuable information in the form of detailed solution articles and other tools. This helps to reduce the number of cases and thus the need to contact customer support.
Automatization
With automation, you can streamline processes such as sending out standardized responses, resolving simple tickets, and scheduling support tasks. VisionFlow can also be customized to meet your specific needs.
Keep track of the whole customer journey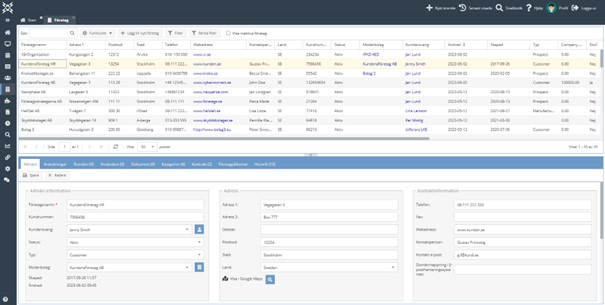 Detailed information
Follow every detail of the customer journey. Get all the information you need in one click and build trusting customer relationships. By having full traceability on the customer card, the team can more easily manage all cases – With VisionFlow you get all the important information on the customer card.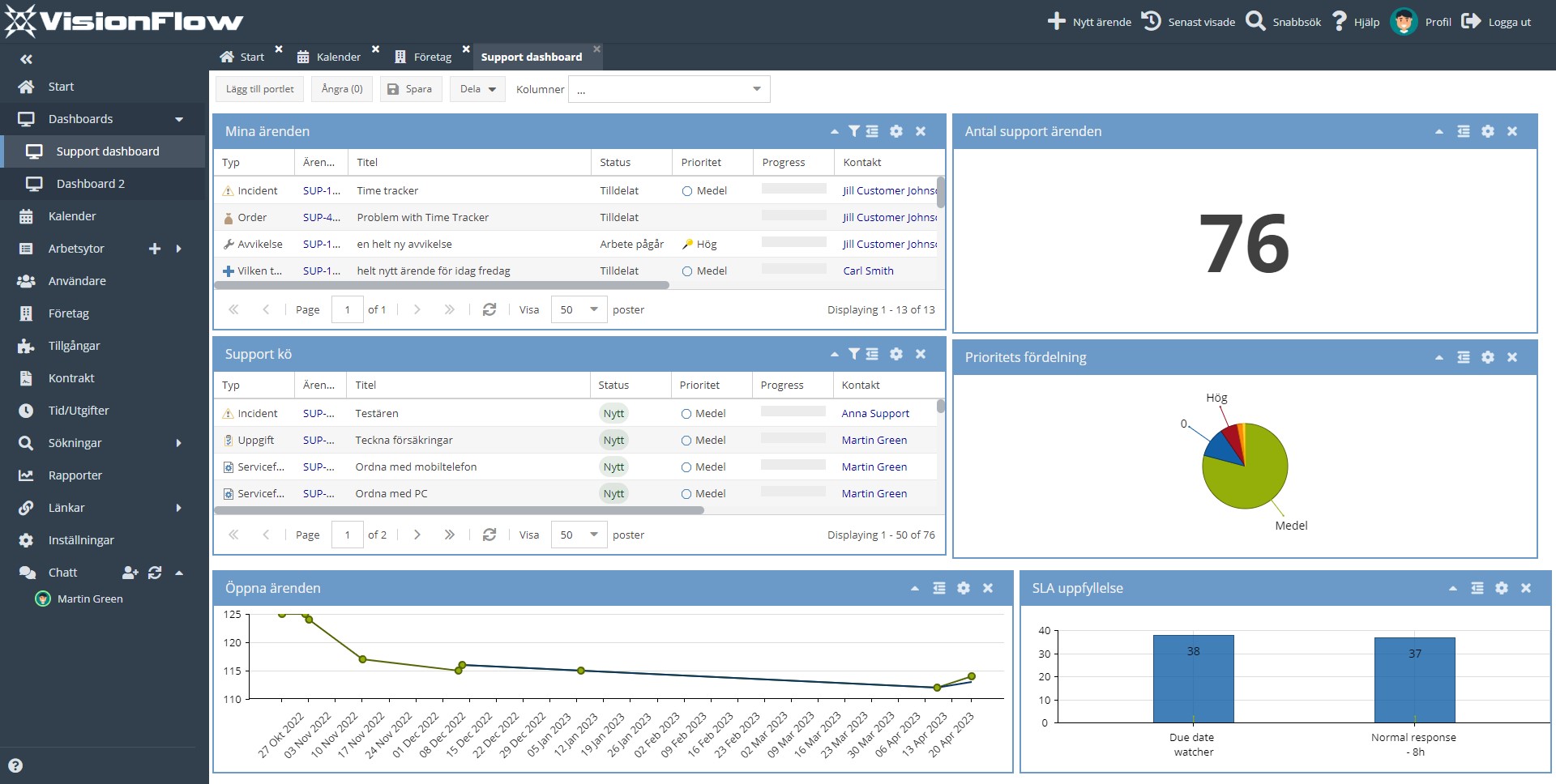 Custom Views
Customize views by specific departments so that the right department can more easily keep track of their cases and act quickly and efficiently on each customer case. Customize the views so that only the vital and relevant information is available to the team.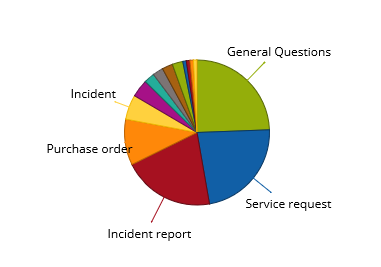 Statistics on all cases
Keep track of all customer cases and create a smoother customer experience. Detect bottlenecks in time and act quickly to keep customers happy. Analyze data and strategies that help the whole team.
Features for customer support
Live chat
The live chat feature makes it easy for you to communicate with your users and customers through an online live chat.
Knowledge base
Allow your users to browse through your documentation in the Knowledge base, while still keeping internal documents private.
SLA management
Ensure you are delivering service as per your set up SLAs. Such as responding within 2 days, or solving incidents within 24 hours.
Email integration
The email integration makes it possible for you to configure a project to create and add details to tasks based on incoming emails.
Issue management
Subscribe to issue events, use tags, change owner and/or department, private and public communication – all this and more in one view.
Issue planning
Set up recurring issues and meetings. Add contract due dates and reminders to ensure no task is forgotten or not handled on time.
Service catalogue
Set up a service catalogue where your customers can pick and choose from your available services and products. Quick and easy for everyone.
Dashboard
The customizable dashboard will be your landing page when you log on. Here you'll get a complete overview and be able to organize your tasks.
Incident management
Handle incidents quickly by ensuring the incident is assigned to the appropriate team or person. Keep track of how the work progresses.
Asset management
With a powerful CMDB you'll be able to structure and keep track of all your products, services, documents and assets.
Multi channel communication
Issues in VisionFlow can be created from incoming emails, sms, forms on a website, phone or manually.
Problem management with KEDB
Get a better overview of your known errors. You can easily run reports or use the filtering functionality.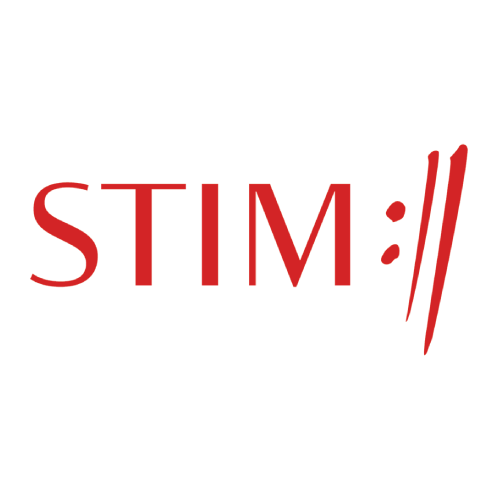 "Support users today have higher demands on transparency, they want to know what happens to their cases. […] VisionFlow meets our requirements and more."
Robert Gehring, Head of Member, Publishing and Costumer Service at STIM 
Set up VisionFlow as it suits you
Other solutions in VisionFlow that may be of interest to you
Do you want to get started today?