Manage your issues easily with VisionFlow.
Companies need to handle issues daily, some scheduled and others unplanned. VisionFlow is a flexible software system that helps you handle, organize and communicate issues efficiently, so that the workflows within the organization flow smoothly.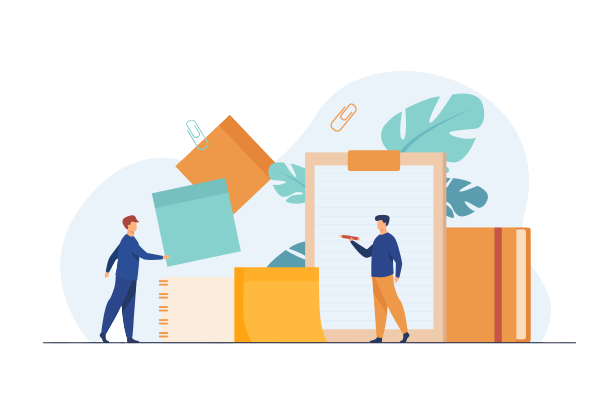 With today's many communication options, many businesses are overwhelmed by emails, messages, and calls from multiple channels. It can be difficult to keep up with all the communication with customers. Many struggle to track and prioritize important cases, which means some cases fall through the cracks and negatively impact the customer experience.
That's when a powerful case management system is just what you need.
With a web-based case management system, the workflow is more efficient and the management of all customer communications is easier, so your organization doesn't have to spend valuable time tracking down old email conversations or dealing with angry customers who haven't received feedback.
With VisionFlow as a case management system, you get full traceability of each case, so you can easily follow up on the case and provide feedback to the customer.
Benefits of VisionFlow's case management
Increase customer satisfaction
Structured customer service allows you to give your customers the best possible service. With VisionFlow, you get a fast and solution-oriented case management system that keeps your customers happy and loyal.
Cases are created instantly in VisionFlow
An incoming email will immediately create a case in VisionFlow. The cases are configured so that the information you think is important is registered on the case and that the case ends up with the right person or team.
Full traceability
You'll never miss an email, text message or other types of communication by having full traceability from the time the customer first contacted you to feedback at the end of the case.
Manage all types of cases
VisionFlow allows you to manage all types of cases: support questions, bugs, requirements, improvement requests – and much more. You set up your ticket types with the information that is important for your work.
Customize the system for your organization
It is easy to customize the system for your company. For example, you can have different case types and your own terminology. It is easy to configure so that an incoming email ends up as a case in VisionFlow.
Automated processes
Automate routine tasks and create reminders to improve efficiency and provide customers with quick responses without the risk of something falling through the cracks. You can easily feedback to customers with pre-set responses and define escalation processes if deadlines are not met.
Integrations
Your company may need different tools for different business activities. For example, many SMEs use dedicated social media tools. Therefore, VisionFlow allows for integrations with the applications you need.
Let customers help themselves
VisionFlow is also equipped with an extensive knowledge base where customers can find valuable information in the form of detailed solution articles and other tools. This helps to reduce the number of tickets and thus the need to contact customer support.
Access to valuable statistics
Med hjälp av VisionFlows ärendehantering kan ni mäta hur ert team hanterar företagets kundärenden. Sätt egna kriterier för att identifiera förbättringsområden och använd insikter från olika mätningar för att kunna fatta strategiska beslut.
How could VisionFlow help you?
No matter how customers approach you, your main goal is to provide them with quick answers and solutions. In addition, you want to be able to track the progress of their case and provide them with updates.
VisionFlow's ticketing system manages all incoming support requests from multiple channels and creates an easy-to-understand ticket all in one place. VisionFlow then helps to prioritize, track, and follow up on customer requests with a complete overview of the entire communication flow.
If a customer sends you an email and then follows up a few days later with an inquiry from another communication channel, this is automatically converted into a ticket and added to the thread of the previous conversation. In this way, everyone on your team can gain insight into previous interactions with the customer and see when and where they took place without having to do time-consuming searches.
This gives your support team a comprehensive view of all customer issues in one place, allowing them to quickly and easily categorize, prioritize, and communicate with customers to find a solution as efficiently as possible.
Ärenden skapas direkt i VisionFlow
Web-based case management system
Customize the system to your organization
Keep track of all key elements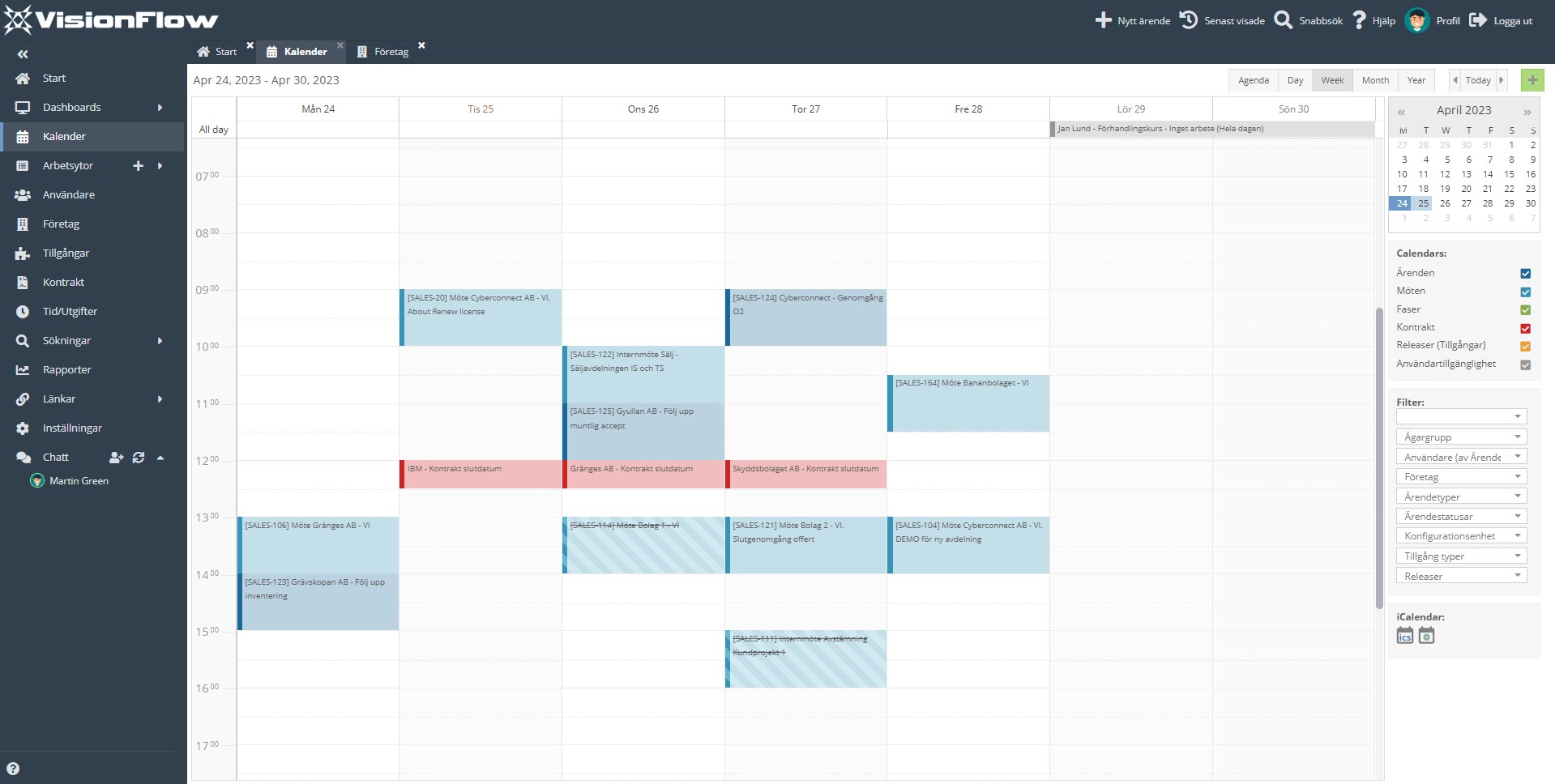 Group calendar with contracts database
With VisionFlow's group calendar, you can set important reminders for your entire team so that nothing falls through the cracks. Plus, you can easily add meetings or other important activities directly to the calendar view so you can organize all events as smoothly as possible.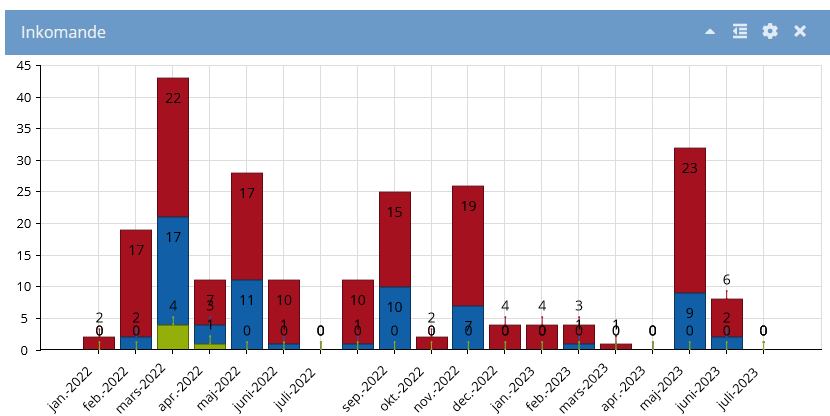 Statistics on all cases
Keep track of the entire case management process and create a smoother customer experience. Detect if something is taking longer and act quickly to keep customers happy. Analyze data and create strategies that help the whole team with VisionFlow's analytics tools.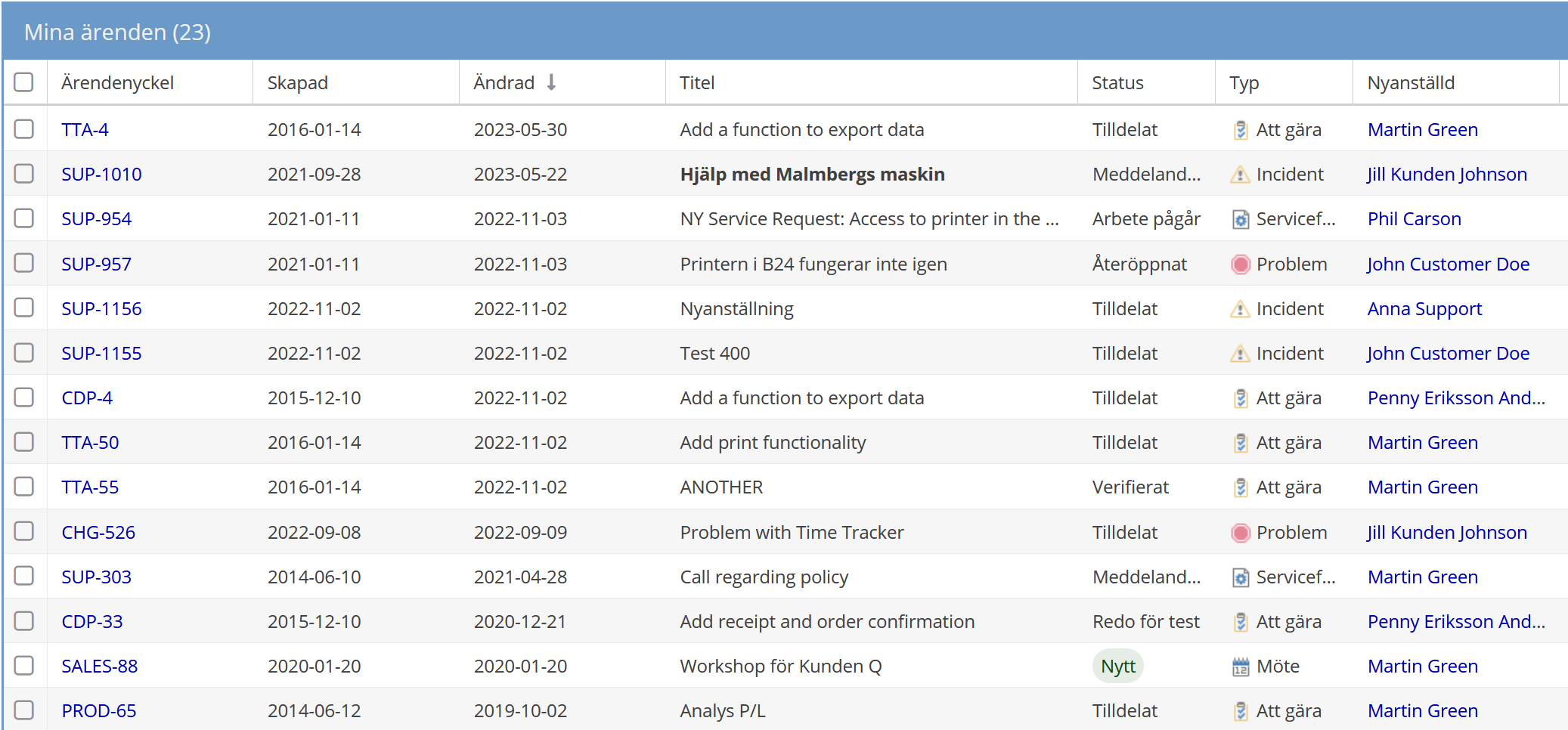 Detailed information
Follow every detail of the customer journey. Get all the information you need with just one click and build trusting customer relationships. By having full traceability on customer cards, teams can more easily manage all cases. With VisionFlow's case management system, you get all the important information on your customer cards.
Features for issue management
Customized searches
Set up your own, more complex, searches based on the specific information you need. You can save these searches for later use.
Contracts
Create a database of all your contracts. You can, for example, create contracts mapped to specific services or products.
Helpdesk
Never miss an incoming issue. Set up a support center and an email integration to facilitate your helpdesk.
Sub-issues
Divide a large task into several sub-tasks, configure as you want and see for example the time spent on sub-tasks as a total on the main issue.
Incident management
Handle incidents quickly by ensuring the incident is assigned to the appropriate team or person. Keep track of how the work progresses.
Knowledge base
Allow your users to browse through your documentation in the Knowledge base, while still keeping internal documents private.
SLA management
Ensure you are delivering service as per your set up SLAs. Such as responding whitin 2 days, or solving incidents within 24 hours.
Email integration
The email integration makes it possible for you to configure a project to create, and add details to, tasks based on incoming emails.
Integrations
We offer several integrations such as Fortnox, Twilio, Web Service API (in/out), Nagios and chat/IM using XMPP. We welcome your suggestions!
Customizable
There are several available customizations to make the system fit your organization and process(es). Terminology, statuses and more.
Support
In the issue view you'll find related articles and issues.  These will help you identify a solution based on previous solutions to similar issues.
Service catalogue
Set up a service catalogue where your customers can pick and choose from your available services and products. Quick and easy for everyone.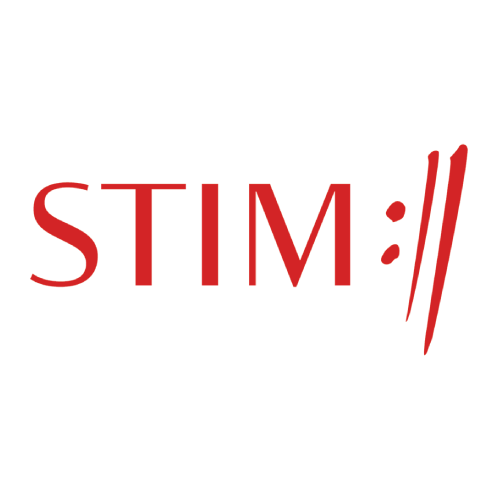 "Traceability is the best, we can follow all our cases regardless of owner and status."
Robert Gehring, Head of member, publishing and customer service at STIM
Organize VisionFlow as it suits you
Other solutions in VisionFlow that may be of interest to you
Do you want to get started today?