Supports your entire business
VisionFlow is a powerful system that handles all types of customers and contacts in one place throughout your organization. With our system, you can easily handle everything from large ongoing projects to fast ad hoc-solutions in all your departments.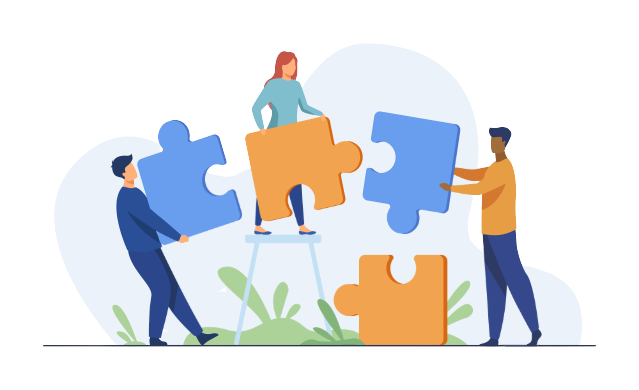 Easy to share information and knowledge
Some of the most important functions in VisionFlow are the flexible activity and event management, the possibility of mass mailings via e-mail, CRM and contract management.
Issues are created directly in VisionFlow
An incoming email will directly create a issue in VisionFlow. The issues are configured so that the information you think is important is registered on the issue and that the issue ends up with the right person or team.
Adapted to you
VisionFlow can easily be adapted to each company's unique way of working, such as sales, HR, management, application development, operations and support.
Full control of the issues status and handling
Let your teams and / or departments share knowledge and information about customers, quotes and service agreements – all in one place.
Features for your business support
Live chat
The live chat feature makes it easy for you to communicate with your users and customers through an online live chat.
Knowledge base
Allow your users to browse through your documentation in the Knowledge base, while still keeping internal documents private.
SLA management
Ensure you are delivering service as per your set up SLAs. Such as responding within 2 days, or solving incidents within 24 hours.
Email integration
The email integration makes it possible to you to configure a project to create and add details to tasks based on incoming emails.
Issue management
Subscribe to issue events, use tags, change owner and/or department, private and public communication – all this and more in one view.
Issue planning
Set up recurring issues and meetings. Add contract due dates and reminders to ensure no task is forgotten or not handled on time.
Service catalogue
Set up a service catalogue where your customers can pick and choose from your available services and products. Quick and easy for everyone.
Dashboard
The customizable dashboard will be your landing page when you log on. Here you'll get a complete overview and be able to organize your tasks.
Incident management
Handle incidents quickly by ensuring the incident is assigned to the appropriate team or person. Keep track of how the work progresses.
Asset management
With a powerful CMDB you'll be able to structure and keep track of all your products, services, documents and assets.
Multi channel communication
Issues in VisionFlow can be created from incoming emails, sms, forms on a website, phone or manually.
Problem management with KEDB
Get a better overview of your known errors. You can easily run reports or use the filtering functionality.

Keep track of issues throughout the chain
VisionFlow makes it possible to be aware of all the issues throughout the chain, regardless of who or which department is currently handling the issue. This also makes it easy to quickly capture issues that have stopped.
Follow issues with the help of a Kanban board, or a simpler list view, for better situation control.

"VisionFlow seizes the entire organization, does not forget anything and coordinates all activities in the right order"
Erik Sandström, Senior System Specialist at Polystar
Organize VisionFlow as it suits you
Other solutions in VisionFlow that may be of interest to you
Do you want to get started today?